This past week I got to discover the most beautiful little treasure in Jamaica, just a 45 min drive from the resort I was staying at in Saint Ann, Jamaica. With an entrace fee of 15 dollars to have a tour guide help you along your way, you can spend the afternoon hiking a short distance and jumping in the most blue waters you will find in the Jamaican landscape. Being me of course, I had brought some bikinis to have a potential mini photoshoot within the environment if it was 1) allowed, 2) easy to do. I was so happy and pleasantly surprised that the space was gorgeous, and so perfect for a photoshoot. Not only that, Jerome ( a photographer that came with us to shoot on our trip) was so lovely, he even brought his camera. The images you'll see today are just my phone, so you can just imagine what the professional images will look like. Stunning I am sure!
There were several amazing locations within the small hike we had to take to reach the locations. First was a serene smaller blue hole with on jumping point. I made quick work of the space, and while everyone else was getting wet. I was wearing a sleek one piece bikini. The second location was a largher space, where most people spent the majority of thier time. With a high waterfall spanning the back, and several jumping points to choose from, this area of the blue hole was much more lively! But stunning to say the least!
After swimming to the far side of the waterfall to take some images of the second two piece bikini I changed into, I decided to be a dare devil and dive head first from the highest point which was at least 40 feet high. I will say it was lovely, but I hit my head pretty hard on that water I got a headache! I loved my time here, and if you plan on heading to Jamaica for a vacation I highly reccoomend you check out the Blue Hole! I am so excited to see what the images look like that Jerome took, and I will be posting some here, along with the full set to my members only section!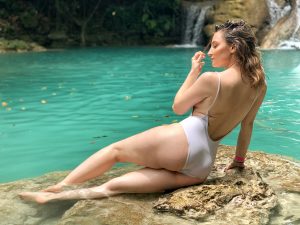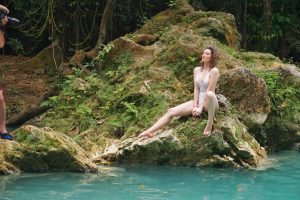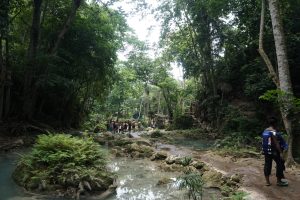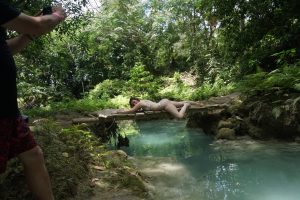 Also, becuase doggos are the best, and I think I spent more time with this dog that actually enjoying the water, I'm to include these iamges. If you weren't aware my love for animals outwieghs my love for the environment.. just by a tad!
You will soon come to know that I am obsessed with animals, and I wanted to take this dog home! Just look at him!