Shooting Cindy Aurum in the Las Vegas Desert!
I recently flew to Vegas to shoot 2 new cosplays I had been working on for some time! And I was so excited to finally get the chance to work on these lovely photo shoot ideas I had had in my head for quite some time! Cindy Aurum is a character from the latest Final Fantasy game. Final fantasy 15. Originally FF13-Versus, this game took a crazy amount of time to develop and finish, and took many turns along the way to eventually be released at Final fantasy 15. Within this amazing game there is a character named Cindy, the daughter of a long running character within the series lifetime named Cid. And she helps you maintain and upgrade your car throughout this wonderful game. Although I am not a fan of her voice.. I don;t really like southern accents to be honest… I was a fan of her character and the design. She's cute, smart and also funny. Her outfit is pretty sexy, and not only did I like it, I had many fans of mine tell me that I would make a great cosplay for her.I have had this cosplay ready to go for quite some time now, but I wanted to do more than just shoot her at a local mechanics shop.
I knew of Nelson Ghost town for quite some time, and I had it in my mind to shoot here. Instead of attending Katsucon this year, since I didn't have any gorgeous new cosplays I thought fit the area, and the flights were just CRAZY. I decided to spend my time and money flying to Vegas to shoot this look along with a cosplay from Game Of Thrones. Here is a look at some of the finished images, which I love so much! Thank you to Jerome Hamilton for the amazing photography! This full set was a March Exclusive over on my Patreon, and will also be hitting my membership section of my site today as well. My supporters help make these cosplay productions happen, and I am very grateful for any love and support shown to me! Feel free to check out the membership part of my site to help me create more gorgeous cosplay and lingerie shoots in the future!
I also wanted to include a look at the behind the scenes from this shoot! I was a full production and I was very thankful to have several friends help with shooting the behind the scenes for me. Sometimes I don't get to show what can really go into a shoot, due to the fact that it can sometimes only be myself and the photographer, which makes it hard to capture all the moments when we are invested in getting the proper shots for the cosplay/look. Thank you to Mark and Rita who were kind enough to assist with video, and also Jeff who collected and shot these photos for me below! The location was stunning, and it was amazing to be able to take the time to fly to Vegas to shoot here. Cindy is such a fun character, and I wanted to make sure I shot her in the proper environment, as you spend so much time in the game with her help. She is an essential part of the story in FF15.
All the old cars on site here at the Nelson Ghost town were a must, and I had this location in mind for quite some time now. I shot here years ago during a photo shoot trip I took with a glamour workshop, and I was stunned at all the gorgeous pieces of old history here. As you can see in the photo below as well, there was snow on the mountains, I traveled to Vegas at a time where it was not hot. Quite the opposite actually… my god it was not a warm day. The sun was shining and I was so thankful for that.. but it was freezing. We arrived on the location in the afternoon as well, and by the time we finished shooting the sun was setting, poor CJ is from LA, and she was so cold she didn't even want to get out of the car to shoot. But I told her we drove all the way there.. and she needs to suck it up to get some great content! I'm such a bully!
Below is an assortment of behind the scenes images, with the professional shots right after! Thank you for the love! Leave a comment to let me know what you think! I would love the feedback!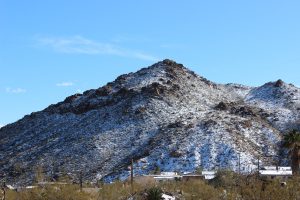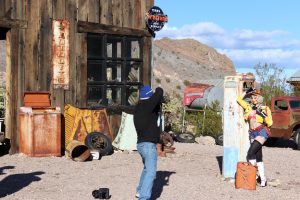 A look at some of the finished images! They are so stunning! Jerome did such a lovely job with all the content, and I was lucky to have him shoot this cosplay for me. His lighting in natural sun is amazing, and I couldn't be more impressed by these images!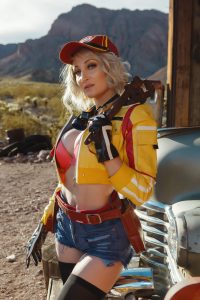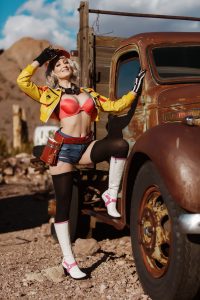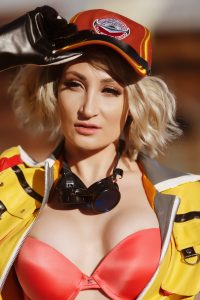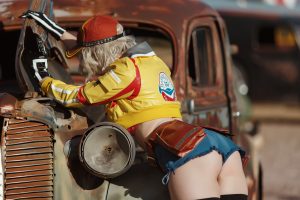 -Holly Wolf