Happy July! What a year, I can't believe it is already July, this year has flown by for me! I've been working hard on so much amazing summer content, and I am so excited to potentially have you here to support my work, and see all the content I have been working on!
This month is full of gorgeous summer vibes, pastels, neon and lots of bikinis! I recently traveled to Jamaica and LA to shoot a lot of content for the upcoming months! And now I can finally show them off for the summer! Not only that, I have two conventions this month, so you will be seeing a lot of new behind the scenes content, more blogs and new cosplays! It's going to be a great month! I hope to have your support! Thank you!
We started the month off strong with a fun spontaneous Canada Shoot that I shot in the first, which is already live for all Silver members, with a small portion of the set also online! It was such a cute look, and I love what we got that day! Shot in my own backyard!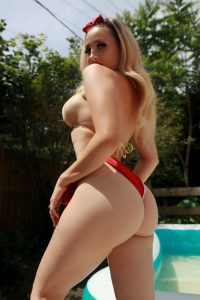 ALL MEMBERS- RE-RELEASES FOR JULY
I love re-releasing sets, it's an amazing way to look back on some past content that I still think is stunning! It can be from just over a year ago, or even up to 3 years, sometimes I like to really look back! This month I wanted to re-release these gorgeous sets I took in a part in Toronto near the beach! They are stunning and again more flowers.. lately I have been super into flowers aha. It must be all the gardening!
Last year around this time I also shot my bikini Harley Quinn bikini set in Miami, and I will be adding that as a cosplay set for ALL MEMBERS! I loved it so so much, and as I work on new cosplays that are coming this month, but have yet to show content for, I wanted to make sure we had a cosplay in here from the start, So I'm adding my bby girl Harley, I love her so so much!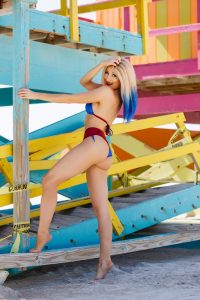 TIP JAR
You want selfies? I got you my bby, lol. This month will be full of bikini selfies, I got a lot of them that I already took, and oh man I plan on spending some serious summer time in some micro bikinis, as I have a really bad farmer's tan at the moment and my god I can't have that for too much of my content! I was thinking or ordering some micro-bikinis this month, it's been a trend in the cosplay world recently on girl's patreon and it's cool and all, but listen, these kids might have been in grade school when I was first wearing them… also shhhhh I am not old and grumpy at all AHAHAHA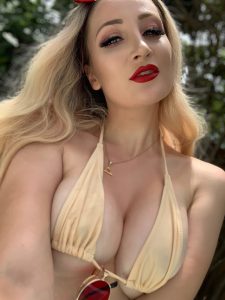 BRONZE EXCLUSIVES
Let's get back to basics on bronze this month! I didn't get to shoot tooooo many little videos for my bronze babies. so I will be working over time this month to make sure we have more of those cute and short sexy videos coming your way! I really love shooting them, but sometimes some months can be a little more hectic than others, and I did lots of other content in June! I also have a few new amazing mini set's coming your way, Bikini's In Vegas Red Rock, Kitchen Vibes in a gorgeous little white lingerie get up, and Neon Is Calling, featuring some more Neon Demon studio vibes, I had a lot of this set done when I did my birthday shoot last year, and didn't want to release all the content at the same time, so this mini set is from a different photographer and I love the look! More lifestyle than glamour!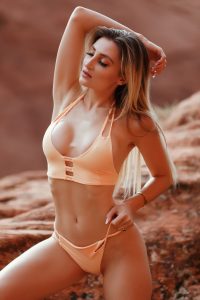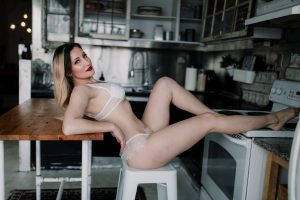 SILVER EXCLUSIVES
My Canada day set was the first set to be released this month, with 40 images released over in my members area here on hollywolf.ca. It was a last minute shoot, and sometimes those work out amazingly well, and I loved the entire set! You can check that out right now by signing up for silver! Along with that glorious set, I have some stunning new content coming to Silver this month! Along with the Canada day content, I have two sets from Jamaica featuring some super cute unders from Me!Undies, it's a pretty flamigo set, very sports like! Also a green bikini beach set, with a little bit more mood to it! More to be added to Silver, as it's still the beginning of the month and I always add more content as I get it!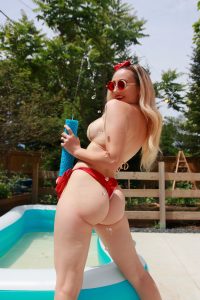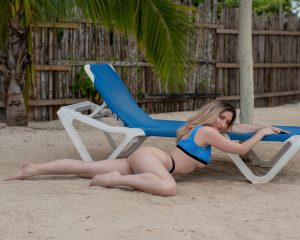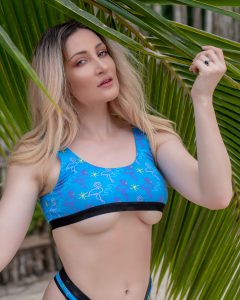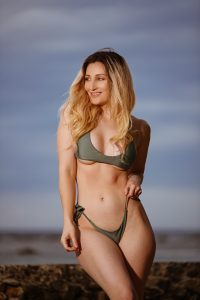 BEHIND THE SCENES
Also at the 10 dollar level, you are given a lot of behind the scenes content, including a deeper inside look inside my photoshoots, cosplay production, and as of late. a lot of construction and landscaping content, I've had such an amazing time working on my house, getting it looking amazing for myself, but also for photo shoots. It's wonderful to be able to just go into my backyard, and shoot even more content for you, not always relying on photographers and waiting for that content to some in. I get a lot done this way, and you also benefit, so be on the lookout for more amazing content like that!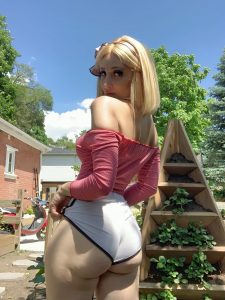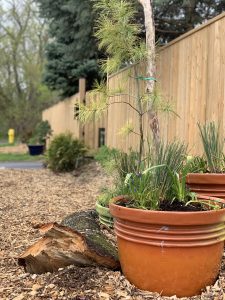 GOLD AND PLATINUM EXCLUSIVE PRINTS
As soon as I get back from Anime Expo I will be updating my store with several new prints, and also ordering the prints for May, June and also July all at once, I tend to mail out the exclusive prints from my patreon members bi-monthly, as it saves me time and money, allowing me to create more content for you. If you are subbed to my Patreon in Gold and Platinum you will soon see what's coming for Prints! Thank you for all the patience with the physical rewards!
PLATINUM EXCLUSIVES
I am so excited for Platinum this month.. MY GOD I GOT SOME FIRE CONTENT! I shot in this gorgeous pastel studio last month, and got this vibrant retro skater set that I am so in love with! Platinum members will be getting this amazing set, featuring over 30 amazing sultry images in ultra HD, I think you are going to love this set! It's sooooo stunning! I also have somewhat of an alternate version of the set as well, featuring my normal blonde hair with a guest appearance from my main bestie herself, CJ Sparxx, I don't have the photos edited yet, but you can see what that vibe also looks like with my thigh highs pulled all the way up to my cheeks 🙂
I should have at least one more super sexy set for Platinum, last month I had several and it was really fun doing more than one NSFW set, so I will try to get you even more content, even though hey listen, THIS IS ALREADY A LOT AND I HOPE YOU LOVE IT!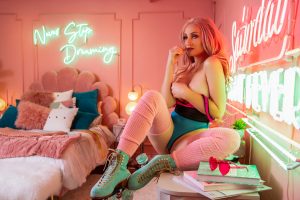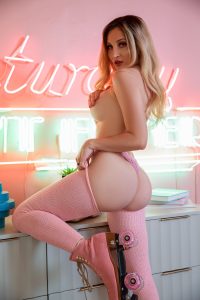 Last summer I also shot this super sexy topless tennis set, I had to flash Mark really fast every few minutes as I wasn't allowed to shoot topless at this resort, look at me breaking the rules aha, I wanted to really add some of my past fav sets into this July, so Platinum will also get to revisit this entire set!


DIAMOND EXCLUSIVE
Diamond members will be getting the video to go along with this skater set, it's very hot, and lots of topless action, I shot a lot os very NSFW content for the Platinum set above, and lets just say my boobs almost got some sexy hot neon lights on them! Diamond will be getting the fully non-censored video that goes along with this set, as well as some extra spicy video content this month I am prepping to shoot! It's going be be so hot, you won't wanna miss it!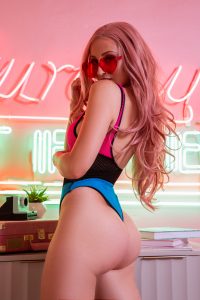 TITANIUM EXCLUSIVES
Titanium always gets the hottest content, not only do they get sent the sexiest snaps, but I also post and share even more selfies, very scandalous content, and it just let's me be myself and have a good time, I know my titanium members are amazing, and I have full trust that they aren't sharing this content, so I go all out! I loved doing the no-makeup vibe back in February, and I plan to do more of that this month on the titanium tier, ALL NATURAL IF YOU KNOW WHAT I MEAN, I also tend to take a lot of bathroom content, I don't know why but I always seem to find the nicest bathrooms to shoot some sexy content in bathroom, get ready for the sexiest, all access content from me. It's gonna be a great time! I hope to see you in this amazing tier! Here is a super sneak peak at some of the content i shot from June for my titanium members!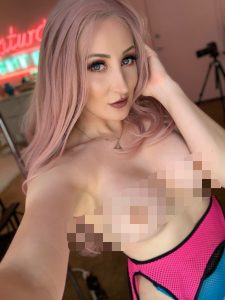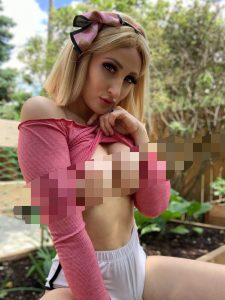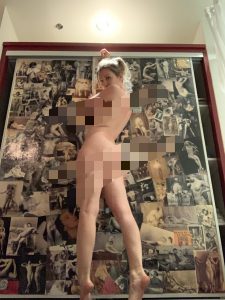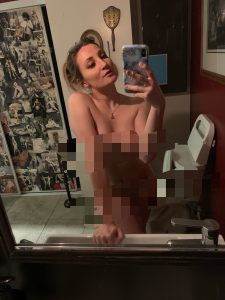 I'm excited for this month, it's shaping up to be a great one, and I hope you choose to support my work, thank you for the love and have an amazing day!
XOXO
-HOLLY