Happy September my wolfpack!! I hope you are doing super well! I am so happy to finally be in the month of my birthday! This is easily my most fav month of the year to produce content for you! It's full of epic good times and sexy content! Basically each year I take the notion of being in my birthday suit and run with that! It's pretty epic to be honest! I've been able to prodcue some gorgeous birthday sets in the past few years, and each time I try to make it bigger and better!
This yeah I am heading to Aruba, to prodce some amazing content for you! I loved doing a gliiter birthday vibe a few years ago, in a gorgeous studio space two years, but this year I wanted to take that theme and take it to the beaches! Luckily I already spent some time while in Jamaica and shot a gorgeous nude set for my Platinum and above members for this month, along with that I also have a gorgeous bathtub nude set, and so much more coming for Sepetember! Here you will see thw outline of all my birthday content coming for you this year. I hope you are ready for a massive amount of amazing content!
NOT ONLY THAT, BUT IF I HIT 400 PATRONS ON WWW.PATREON.COM/HOLLYWOLF I WILL BE RELEASING ALL PREVIOUS BIRTHDAY CONTENT TO ALL PATRONS AND ALSO MEMBERS OF MY WEBSITE! SO LET'S GET IT! I HOPE WE CAN REACH THIS GOAL!
400 MEMBER BONUS GOAL!
Like I mentioned above, if we reach my goal of 400 members, I will be releasing all these past birthday sets for ALL PATRONS! That includes all the normal sets, and also all the NSFW nude sets as well! That is an amazing thing, all these are full sets, with over 10 images per look! Like 100 photos! AHH SO COOL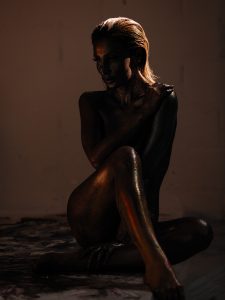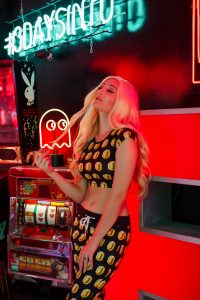 TIP JAR EXCLUSIVES
This month will be full of amazing selfies, with 2 separate trips to both Aruba and Vegas, I will be brining you all some of the most epic and pretty selfies in some gorgeous locations! Lot's of bikini's for sure! And MORE GLITTER 🙂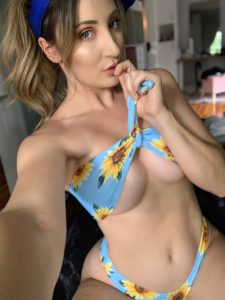 BRONZE MEMBER EXCLUSIVES
This month will be full of bikini sets for my lower tier members, not to mention some really gorgeous videos! I plan to shoot a lot of gorgeous content while in Aruba, and I plan on taking some serious advantage of the landscapes when I am in Aruba! We have a gorgeous villa we are staying in as well, so I will be shooting there as well as much as possible! You know me, I like to make the most of my trips for you! I also have some more mini cosplay shoots coming, I plan on shooting a pretty and casual poison ivy in my garden before it gets too cold out, and that will be for my bronze babes as well! I have been getting a lot of requests for that! So I will get it done for sure!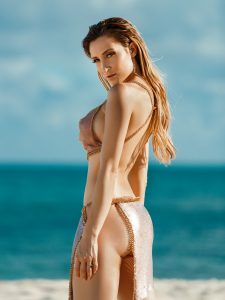 SILVER MEMBER EXCLUSIVES
This September my silver members will be getting some great full sets of content! Coming asap are some more garden behind the scenes and shoots, as I prep for the fall season in my garden! I am so happy you have all been loving my garden shoots and just the content ovrerall, that I don't want to stop! It may be getting colder, slowly but surely it is , so I am going to try and take advantage for as long as I can! I grabbed some super cute flower bikinis and I will be releasing these sets soon, literally just shot one this afternoon to make sure you have a cute set to look at and enjoy right away! And fall harvests will be amazing! We also have Fan Expo shoots coming in, and this tier will see plenty more Demon Hunter photos, and more sexy white widow this month!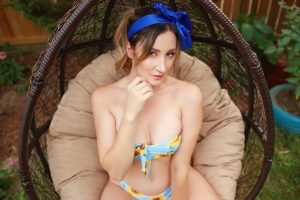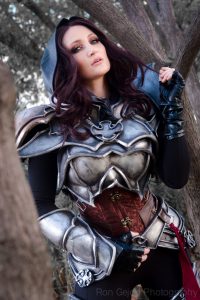 PLATINUM MEMBER EXCLUSIVES
This is where things start to heat up, get ready for all the sexy birthday noods this year! I have a massive amaing birthday set I went hard on, what is better than the sun shining on a naked body all full of glitter! I LOVE THIS look, pretty sure it is my new fav set of all time, and that says a lot. I have been modeling for a while now lol. This set is also HUGE, as I plan to submit it to playboys. Who knows maybe I could get another playmate.. LOL IT HAS BEEN A HOT MINUTE! We also already have another gorgeous set for platinum, a set I shot and totally blanked on and LOVE. I will also be shooting a lot more content this month, so get ready for some amazing work! I also have the most gorgeous TUB SET, that will be included in this month's Platinum! IT"S STUNNING!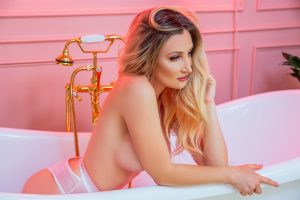 DIAMOND MEMBERS EXCLUSIVE
I am sure you know the deal by now, this month Diamond will be getting all the goods Platinum gets, with a larger focus on video content! Look out for several additional videos this month, with a emphasis on the sexy! I didn't get to shoot a full glitter video.. only a BTS from that shoot, so watch out for a dedicated tropical glitter shoot for Diamond this month!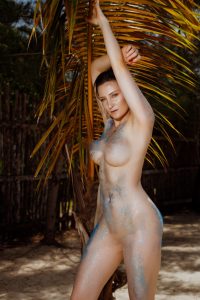 TITANIUM MEMBER EXCLUSIVES
With so many trips happening this month, with a huge part of them being only for modeling and creating content, this month my Titanium babes will be hitting the ultamite jackpot! Full of snapchat exclusives and sexy selfies and more intimate looks at the shoots I do, I am so excited to have you see the full experience when it comes to my content! See everything that happens when the cameras are on and off, and get so much content your brain might explode! ahahaha, I am just being silly but hey it's gonna be a great month! SO EXCITE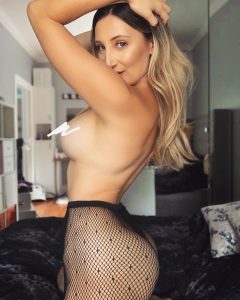 OVERALL I AM SO EXCITED FOR THIS MONTH, AND I HOPE WE CAN REACH OUR GOAL! SIGN UP TO ME A MEMBER HERE ON MY SITE, OR HEAD OVER TO WWW.PATREON.COM/HOLLYWOLF TO JOIN TODAY AND HELP ME MAKE ALL THIS AMAZING CONTENT!